How to choose mica board insulation material for commutator manufacturing
The commutator mica board, also called the commutator mica board, is one of the most important insulating materials in DC motors. There are two main materials for manufacturing commutator mica board: one is small area mica sheet, and the other is powder mica paper. In order to make the product reach the required thickness, the mica plate made of mica sheets must be milled or polished. When pressing, the two sides are lined with different liner paper and canvas, so that the thickness is uniform and the inner tightness is achieved after pressing. When the powder mica paper is used to make the powder mica board, if the pressing condition is good, the milling or grinding process can be omitted.
In addition, according to the different insulation levels of the motor, and the requirements of anti-arc and moisture resistance, shellac, polyester paint, melamine polyacid paint, ammonium phosphate aqueous solution, cyclic resin glue or modified silicone paint are used as adhesives to manufacture various Types of mica boards.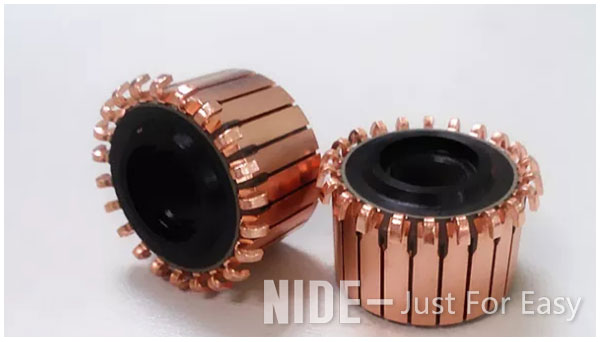 The use of shellac can produce commutator mica plates that can reach a temperature of 100°C and higher, including commutator cloud plates for high-speed motors. But the disadvantage is that the production efficiency is low.
It is better than shellac to use polyacid resin condensed from ortho-jasmonic anhydride and glycerin. It is easy to peel and stick mica sheets, and it can also automate the process of attaching mica sheets, so that a large number of landlords can produce commutator mica boards. . However, the disadvantage is that there is unpolymerized resin in the mica board, and the depolymerization of the resin in the mica board is intensified under the influence of high temperature and high pressure. to the surface of the motor commutator.
When using polyacid resin commutator mica plate as high temperature motor to insulate the commutator of traction crane or large motor, it must be heated before use. After doing so, when pressing the commutator, the outflow of resin will be reduced, which also ensures the reliability of the commutator in operation.
The use of Anfu powder as the adhesive can make the performance of the commutator mica board not change under the conditions of high humidity and temperature (200 ℃ or higher). Its shrinkage rate is also smaller than other mica boards, and its high temperature resistance exceeds 600 ℃. Therefore, its quality is generally higher than the above-mentioned various mica boards, and the application range is also wider.
The mica board made of epoxy or melamine and polyacid resin has good arc resistance and is used in high-speed DC motors.
The mica board made of modified organic resin can withstand high temperature and is used in special flow motors.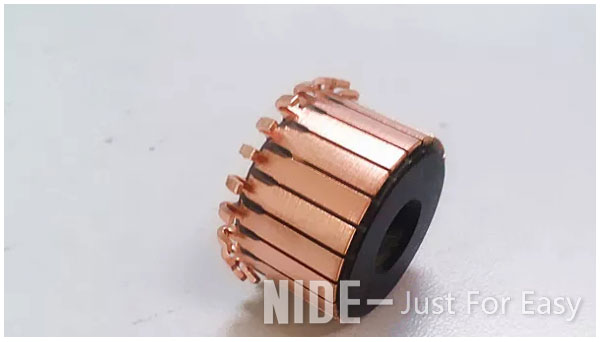 NIDE supplies various mica boards and commutators, which are mainly used in the field of power tools, brushless motors, new energy vehicle motors, household appliances, lifting tables, medical equipment beds and other fields.