PRODUCTS
CONTACT US
Ningbo Haishu Nide International Co., Ltd.
一一
· Add:14-5, East Kemao Center, No.100 Xiangyun Road, Hi-tech District, Ningbo, China.
· Contact person:Annie
· Tel:0086-574-87295639
· Mob/Whatspp/WeChat:0086-13738869026
· Fax:0086-574-87295637
· Email:emarketing@nide-group.com

Your current location:Home > Products > Carbon brush > China Power Tools copper carbon graphite brush for Electric Angle Grinder motor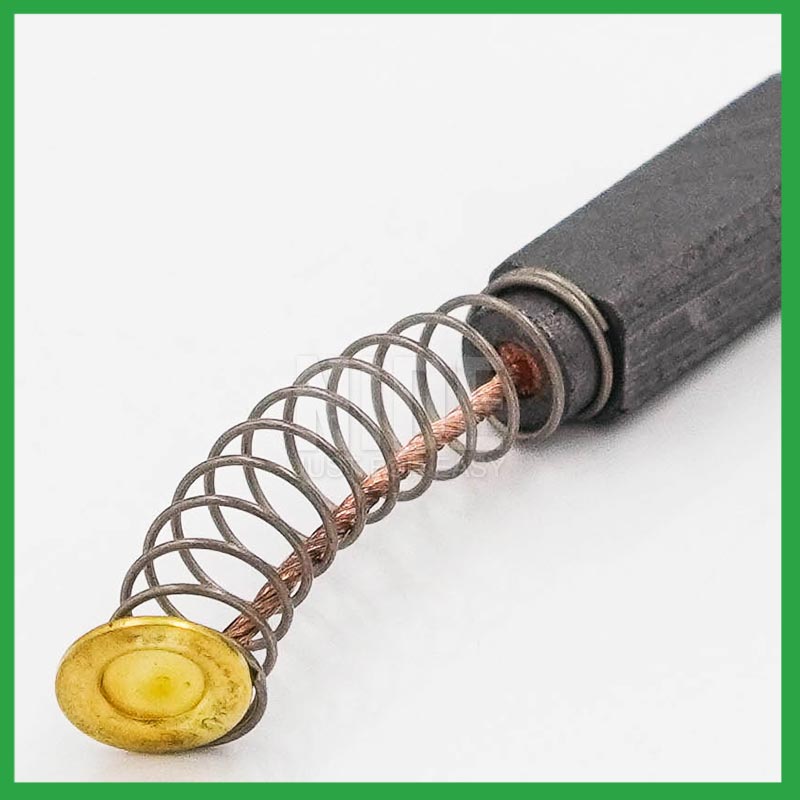 China Power Tools copper carbon graphite brush for Electric Angle Grinder motor
Model:NDPJ-TS-75
Our carbon brush is suitable for Car motorcycle carbon brush,Power tool carbon brushm, Noil carbon brush, DC motor carbon brush, AC motor carbon brush ,generator carbon brush, etc.
Categoryes: Carbon brush
CONTACT US
Details
China Power Tools copper carbon graphite brush for Electric Angle Grinder motor
NIDE can produce different types of carbon brushes and graphite products. Our carbon brushes are widely used in automobile starters, car alternator , power tool motor, machinery, molds, metallurgy, petroleum, chemical, textile, electromechanical, universal motor, DC motor, diamond tools and other industries. The company is backed by first-class production technology and advanced equipment, with various professional and technical personnel, senior engineers and experienced production workers. We can provide customers with various types of carbon brush customization and processing to meet customer needs.
We fully implement the ISO9001 quality certification, and at the same time introduce advanced foreign production technology and formula, the products produced are widely used in many fields, and are sold well in domestic and foreign markets, and are exported to North America, Southeast Asia, Europe and other regions.
We manufacture and design many patterns, grades and types of carbon brushes ensuring the correct carbon brush is available to meet your requirements for your motors or generators, and advice on carbon brush grade selection is given by our technical experts. The benefits to our customers include carbon brushes that can increase uptime and reduce maintenance costs by improving machine reliability and availability.
We have a strict control system of our product. Our traceability system focus on the inspection not only in the production process but also with raw material(like graphite powder, copper powder) incoming test.
Technical requirement
Material

Model

Resistance

Bulk density

Rated current density

Rockwell hardness

loading

Carbon black

D308

40±40%

1.62±10%

10

86(-45%~+25%)

100KG

D374L

50±50%

1.71±10%

12

82(-50%~+67%)

100KG

D374B

57±57%

1.57±10%

12

83(-35%~+20%)

100KG

Advantage: high strength, low bulk density, good rectification performance

Application of D308: suitable for mirco DC motor, like voltage regulator

Application of D374L: suitable for small high speed series excited motor

Application of D374B: suitable for traction motor, generator motor, exciting dynamo motor or DC motor which commutator cannot be used
Carbon brush features:
Our electrical carbon brushes are made from low friction conductive carbon materials, Selecting the correct grade carbon brush is important for commutator performance, maximum brush life, and high motor performance.
Our carbon brushes are consistent reliable electrical performance and low wear rates on motors and generators.
Good quality
Small spark
Low noise
Long duration
Good lubrication performance
Good electric conductivity

Carbon brush Application:
Our carbon brush is suitable for Car motorcycle carbon brush,Power tool carbon brushm, Noil carbon brush, DC motor carbon brush, AC motor carbon brush ,generator carbon brush, etc. They are used in steel processing, mining, power generation, traction and a wide range of general industrial applications all over the world.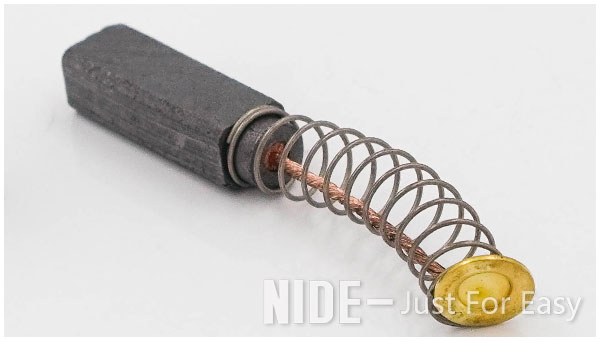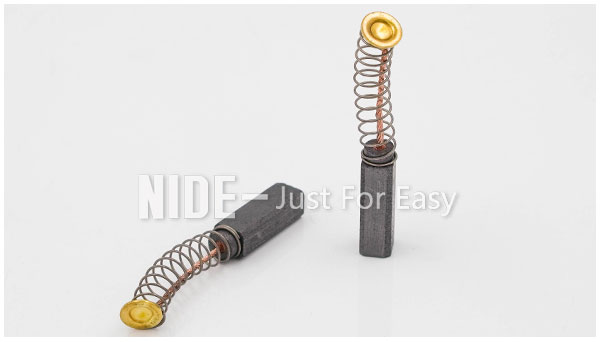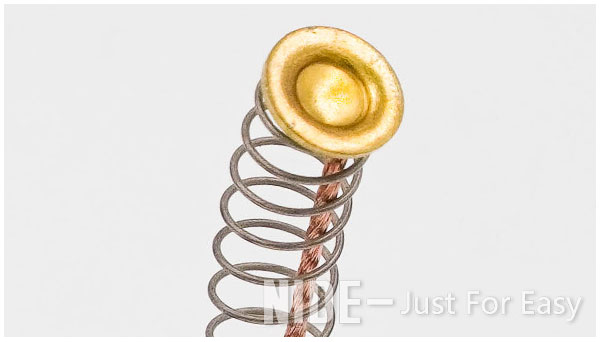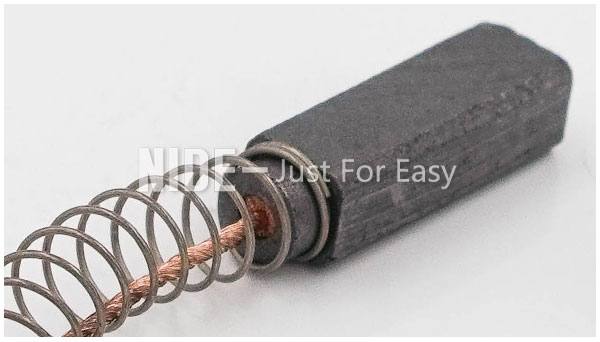 Carbon brush importance:
1. The external current (excitation current) is added to the rolling rotor through the carbon brush (input current)
2. Bring the static charge on the large shaft through the carbon brush to the earth (earth carbon brush) (output current)
3. Lead the main shaft (ground) to the protective device for the rotor grounding protection and the positive and negative voltage of the rotor
4. Change the current direction (in commutator motor, the brush also has a commutation function)

Information needed for carbon brush inquiry:
It will be better if customer could send us detailed drawing including below information.
1. Carbon brush dimension: length, width, height, lead wire length
2. Carbon brush material:
3. Carbon brush voltage and current requirement.
4. Carbon brush applications
5. Required quantity
6. Other technical requirement.
If possible, it will better if customer could send us samples.
We can produce a wide range of carbon brush. Our carbon brush is widely suitable for automotive industry, household appliances, hammers, planers and etc. We could customize carbon brush for our customer and directly supply our carbon brushes to more than 50 countries around the world.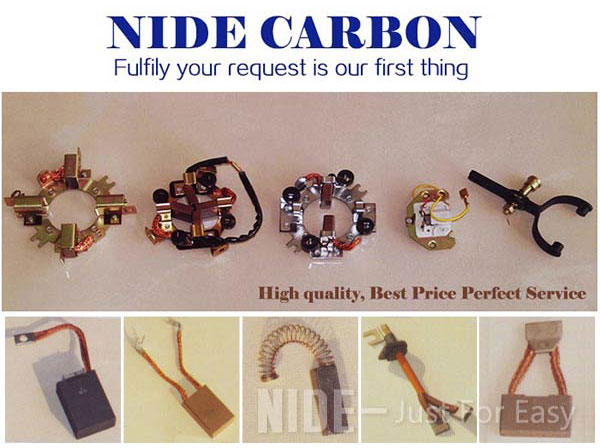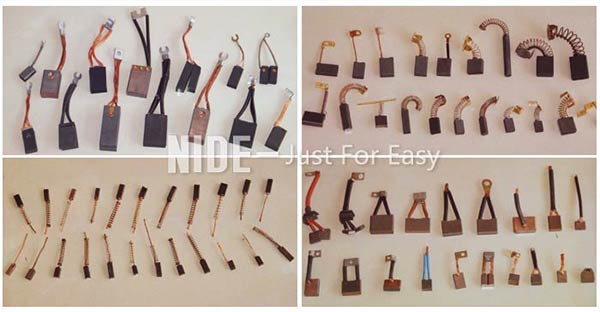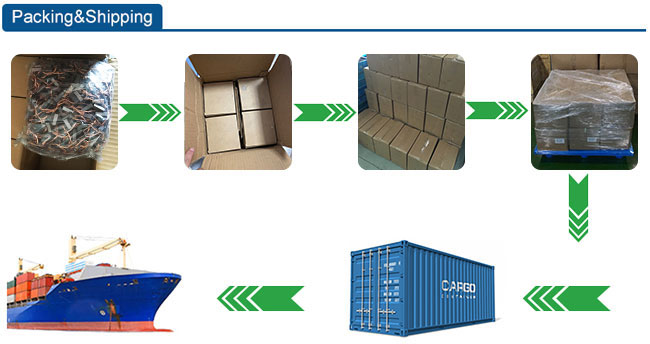 About Motor component and accessories
NIDE can supply the full range of electric motor components such as commutator, ball bearing, thermal protector, carbon brush, insulation paper, shaft, magnet, fan, motor cover,etc.
​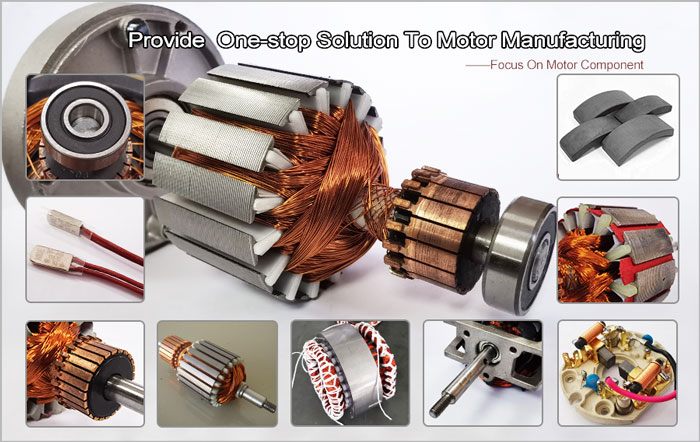 | Contact us
Motor Parts Department
Manager: Annie
Phone/Whatsapp/Wechat : 0086-13738869026
Email : emarketing@nide-group.com
Address:14-5, East Kemao Center, No.100 Xiangyun Road, Hi-tech District, Ningbo 315040, China