PRODUCTS
CONTACT US
Ningbo Haishu Nide International Co., Ltd.
一一
· Add:14-5, East Kemao Center, No.100 Xiangyun Road, Hi-tech District, Ningbo, China.
· Contact person:Annie
· Tel:0086-574-87295639
· Mob/Whatspp/WeChat:0086-13738869026
· Fax:0086-574-87295637
· Email:emarketing@nide-group.com

Air conditioner motor thermal protector KW thermal protector 135°C
Model:NDPJ-RBHQ-59
The KW thermal protector is suitable for Air conditioner motor.
CONTACT US
Details
Air conditioner motor thermal protector KW thermal protector 135°C
Thermal protector application
Household appliances, air conditioners, washing machines, microwave ovens, automobile motors, fire cables, motors, water pump motors, transformers, lamps, instruments, medical machinery, etc.
Thermal protector product parameters

| | |
| --- | --- |
| Product name: | Air conditioner motor KW thermal protector |
| Temperature range: | 45-170°C, can be customized according to customer needs |
| Electrical specifications: | DC (DC voltage) 5V/12V/24V/72V, AC (AC voltage) 120V/250V, can be customized according to customer needs |
| Current range: | 1-10A, can be customized according to customer needs |
| Shell material: | high temperature plastic shell (non-metallic), iron shell, stainless steel shell, can be customized |
The working principle and characteristics of thermal protector:
KW thermal protector is a kind of bimetal with constant temperature as a sensitive element. When the temperature or current rises, the heat generated is transferred to the bimetal disc, and when it reaches the rated operating temperature value, it will act quickly to disconnect the contacts and cut off the circuit; when the temperature drops
When the preset reset temperature setting value is reached, the bimetal disc will quickly recover, so that the contacts are closed and the circuit is connected.
The thermal protector has the characteristics of small size, large contact capacity, sensitive action and long life.
Thermal Protector Picture: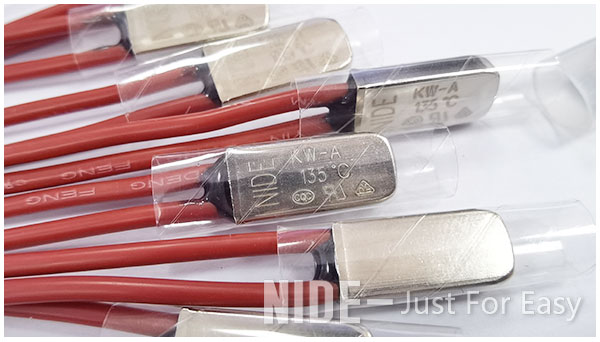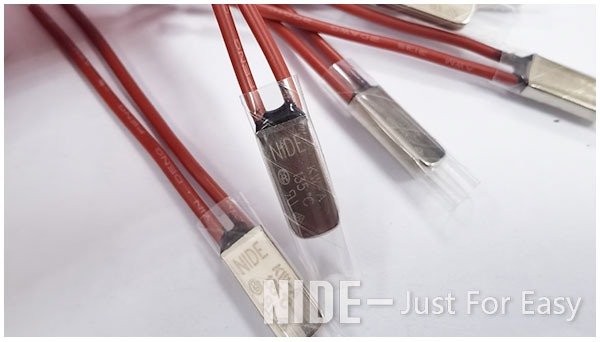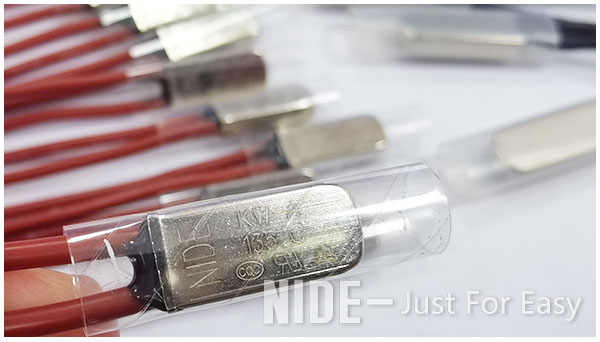 Thermal Protector Structure: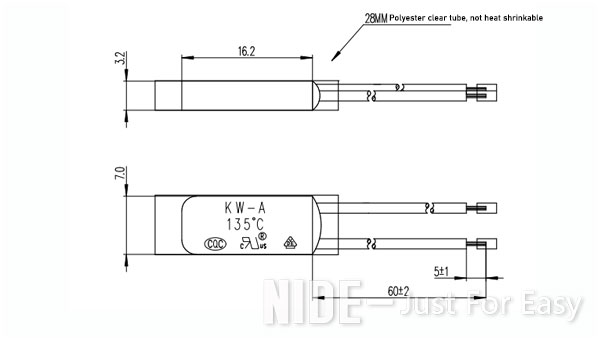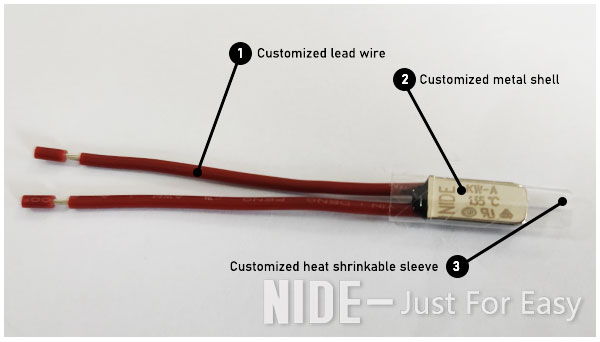 1. Customized lead wire: Customized wire material, length and color according to customer needs
2. Customized metal shell: Customize different material shells according to customer needs, including plastic shells, iron shells, stainless steel shells, and other metal shells.
3. Customized heat shrinkable sleeve: Customize different high temperature resistant polyester heat shrinkable sleeves according to customer needs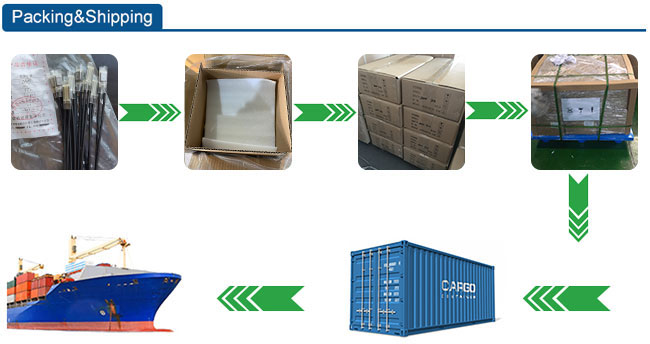 About Motor component and accessories
NIDE can supply the full range of electric motor components such as commutator, ball bearing, thermal protector, carbon brush, insulation paper, shaft, magnet, fan, motor cover,etc.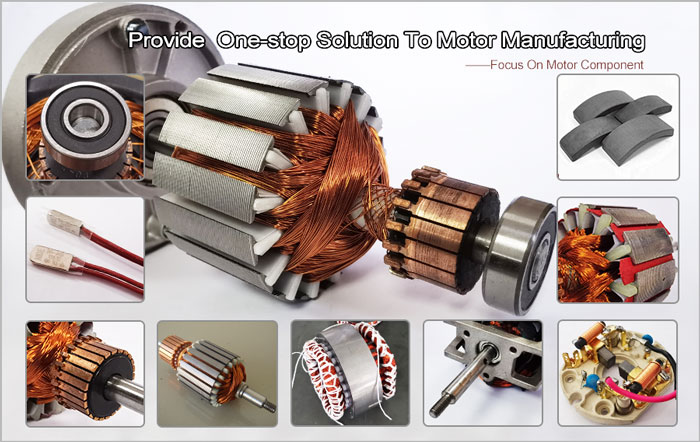 | Contact us
Motor Parts Department
Manager: Annie
Phone/Whatsapp/Wechat : 0086-13738869026
Email : emarketing@nide-group.com
Address:14-5, East Kemao Center, No.100 Xiangyun Road, Hi-tech District, Ningbo 315040, China