PRODUCTS
CONTACT US
Ningbo Haishu Nide International Co., Ltd.
一一
· Add:14-5, East Kemao Center, No.100 Xiangyun Road, Hi-tech District, Ningbo, China.
· Contact person:Annie
· Tel:0086-574-87295639
· Mob/Whatspp/WeChat:0086-13738869026
· Fax:0086-574-87295637
· Email:emarketing@nide-group.com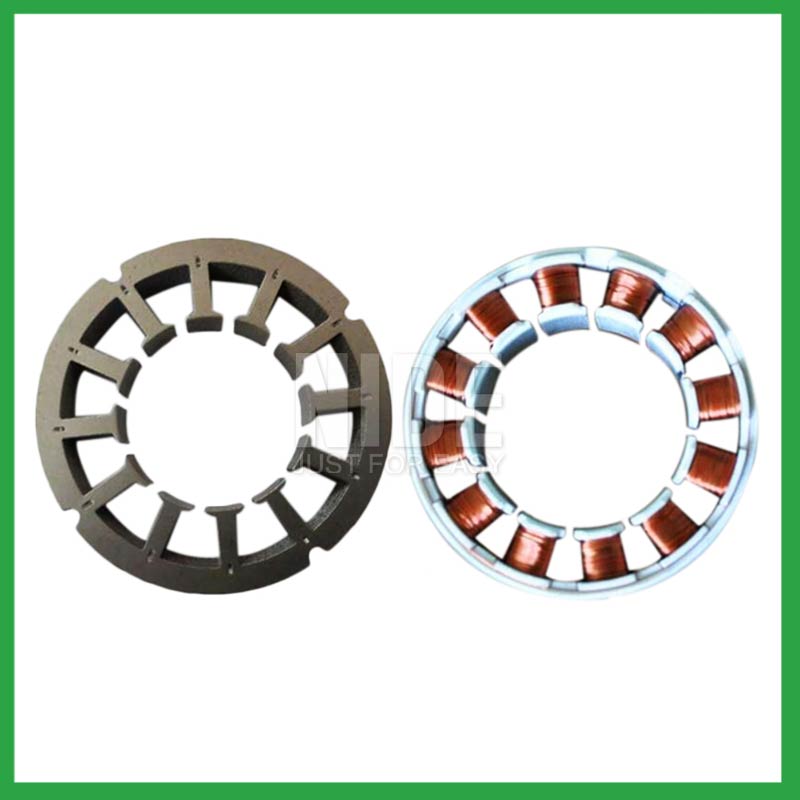 Fully auto BLDC Brushless motor stator production line
CONTACT US
Details
Introduction:This production line is suitable for brushless motor stator production
I.Function and features:
This production line is suitable for brushless motor stator production.
It consists of paper inserting machine, end insulation board inserting machine, needle winding machine, stator tester, tracing system and belt conveyor. Operator fill material, each process is completed automatically, automatically transfer the stator to next process. The processing parameter can be set and saved on HMI, and can be called out at any time. It features High intelligent, high automation, high efficiency and low noise.
II.Technical specification:
Stator OD: 50-150mm
Stator ID: 30-90mm
Stack length: 20-60mm
Winding speed: Max. 1000RPM
Wire diameter: 0.25-1.1mm
Voltage: 220V±10%, AC (50Hz/60Hz)/ 380V±10%, AC (50Hz/60Hz)
Working pressure: 0.5-0.7Mpa
Winding method: needle winding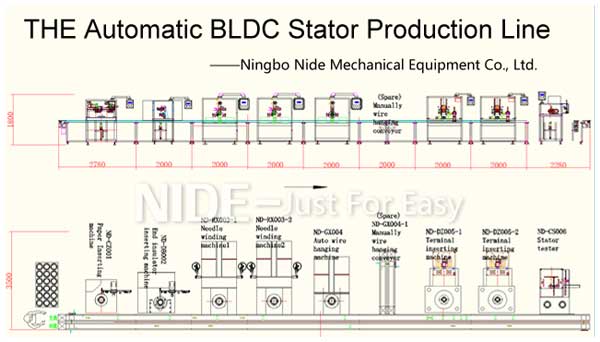 III.BLDC motor stator machine introduction
The brushless motor stator insulation paper inserting machine
It adopts mechanical driven system, servo system and pneumatic system. As a result, the machine can automatically do positioning, pressing, paper feeding, paper forming, paper pushing. The paper edge can be auto chamfered so as to solve the winding problem caused by paper, and improve the percent of pass of stator. This machine is easy to operate, of high automation, and suitable for series motor, BLDC motor and stepping motor stator.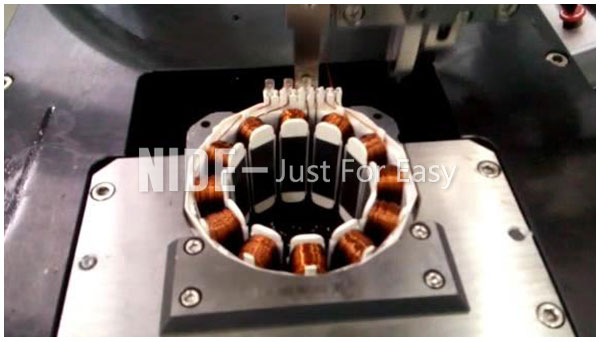 BLDC insulation board end palte pressing machine
a. Double palm start buttons, operation panel is at the front side of the machine;it is very easy to operate
b. Adapts emergency button, once it has emergency situation, press down this button, machine will stop working immediately, it enhance the safety and reliability;
c. Material conveyor and machine height can be adjusted;In the material conveyor with a cylinder to prevent NG parts into the next process;
d. Add 2 insulation panels to the left and right of the machine.
e. Manual loading, automatic unloading, can be connected to automatic lines.
f. Piston cylinder pressing down stroke is adjustable, helpful for protecting the end plate from bearing too much pressure;
g. There is guiding device, during pressing, there is no axis direction rotation;
h. There is filter pressure reducing valve, pressure is adjustable.
BLDC motor stator needle winding machine
This needle winding machine is suitable for winding BLDC stator. It equips with servo system. It can automatically intert wire end, winding, arraying, indexing, cutting, demolding. This needle winder is designed with two working station. Machine movement is pre-set in the touch screen. All the winding data can be shown on the touch screen during machine running. During running, machine will alarm if something goes wrong.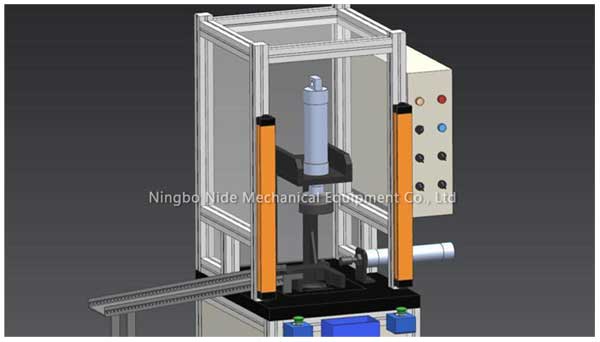 The BLDC stator manufacturing production line youtube video