PRODUCTS
CONTACT US
Ningbo Haishu Nide International Co., Ltd.
一一
· Add:14-5, East Kemao Center, No.100 Xiangyun Road, Hi-tech District, Ningbo, China.
· Contact person:Annie
· Tel:0086-574-87295639
· Mob/Whatspp/WeChat:0086-13738869026
· Fax:0086-574-87295637
· Email:emarketing@nide-group.com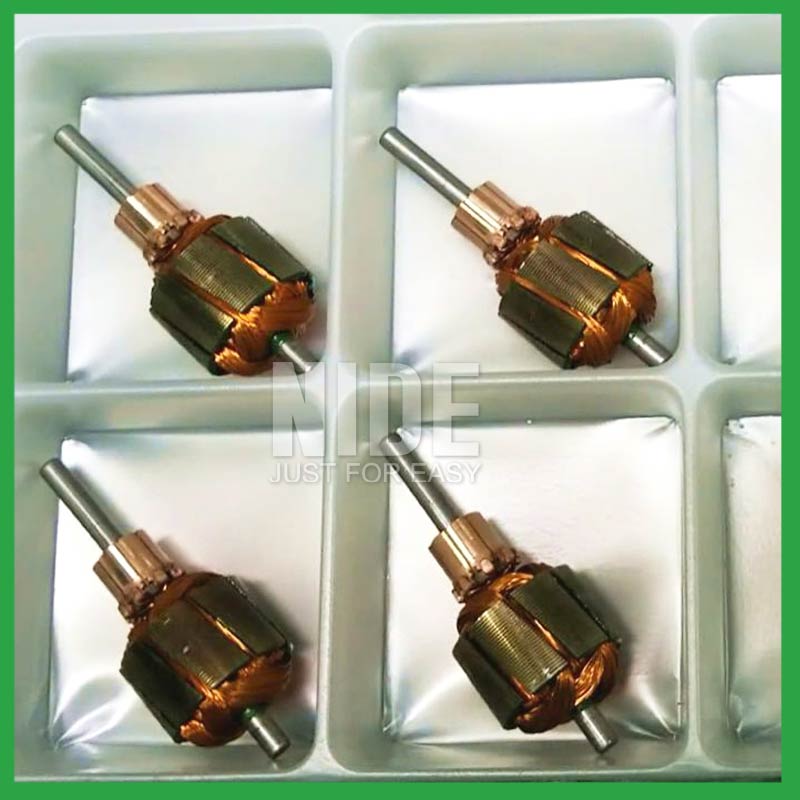 Fully motor armature rotor manufacturing assembly line
Model: ND-ZZX-6
The automatic electric motor rotor making production line is transmitted by the belt conveyor line
CONTACT US
Details
Automatic motor armature manufacturing production line rotor making line
I. The motor armature manufacturing production line introduction:
The automatic electric motor rotor making production line is transmitted by the belt conveyor line, and the front and rear machines can be connected according to a predetermined communication protocol to realize intelligent automatic production, and the workpiece transfer, loading and unloading, detection, and production process transfer can be completed without manual intervention.
This automatic rotor produciton assembly line is used for the manufacturing production of motor armatures (commutators can be hook or groove).
The motor rotor production making assembly line consists of the main operating table (including the upper and lower feed ports), the rotor shaft pressing machine, the rotor commutator pressing machine , the automatic rotor insulation paper insertion, the double flyers armatur rotor coil winding machine, and the fully automatic rotor commutator spot welder, the automatic rotor slot wedge insertion machine, the armature rotor commutator turning machine, the armature rotor deburring machine, the fully automatic rotor integrated testing machine.
The workpiece is placed in the production line from the console.
The Whole rotor manufacturing line will complete the corresponding process according to the relevant process.
It will be recycled back to the lowering port to remove the completed workpiece.
Each process equipment has functions such as separate setting, display, operation, sound and light alarm.
II. Performance and characteristics
1. This automatic rotor making production line includes armature shaft presser, armature rotor commutator press, rotor insulation paper automatic inserter, double fly fork armature rotor winder, fully automatic rotor commutator spot welder, automatic armature rotor slot wedge inserter , rotor commutator finishing turning machine, rotor commutator deburring machine, and fully automatic armature rotor testing machine.
2. The complete armature manufacturing line equipment can be automatically connected or operated independently.
3. Advanced and sophisticated host manufacturing technology combined with a powerful belt conveyor system for a variety of different planar configurations.
4. It has the advantages of simplicity, flexibility, high efficiency and reliability, which can greatly save manpower, reduce labor intensity and effectively improve production and quality.
5. High-strength all-aluminum frame structure, simple and elegant appearance.
6. The main operation console can perform centralized display monitoring and inquiry on the entire production system, and can read and write the process status of the product by manual input instructions, which can change the process of processing the product, and the operation is more humanized.
7. Compared with the pneumatic conveying line, the transmission efficiency is higher, the noise is smaller, and the workpiece is not damaged during transportation; the belt conveying structure combined with the intelligent identification system realizes flexibility from hardware and software, and makes the wiring more flexible and diverse.
8. The whole rotor making production line adopts automatic identification control system. Each process can automatically read, write and identify the machining status of the workpiece, so that the line body can better adapt to complex and diverse production process requirements.
9. Customers can configure different models into a highly efficient and practical automatic production line according to the actual conditions such as product type, technical indicators and production requirements.
III. The motor armature making Machine parameters
a. Auto armature rotor commutator pressing machine parameters
| | |
| --- | --- |
| Product name | Motor armature commutator pressing machine |
| Armature O.D: | 20-60mm |
| Shaft O.D: | 3-15mm |
| Shaft length: | 32-250mm |
| Armature slot number: | 8-24 slots |
| Commutator O.D: | 8-40mm |
| Speed amplitude modulation: | 0-670Hz |
| Air source: | 6-6Kg/cm2 |
| Total power: | 1.0KW |
| Power source: | AC220V,50/60Hz |
| Weight: | About 400Kg |
| Dimension: | 910*880*1300mm |
b. Double flyer winder armature coil winding machine parameters
| | |
| --- | --- |
| Product name | Armature rotor coil winding machine |
| Wire diameter: | ¢0.25~¢1mm |
| Armature O.D: | ¢20~¢60 mm |
| Armature stack length: | 10~60 mm |
| Slot type: | straight slot(No more than 36 slots) |
| Armature slots number: | Odd, even slot |
| Counting Range: | 0~99999 |
| Commutator diameter: | ¢18~¢40 mm |
| Fly fork speed: | 0~3000 rpm |
| Indexing speed: | 0~3000 rpm |
| Action process: | Single action, automatic |
| Air pressure : | 4~6 Kg/cm2 ,0.5-0.7MPa |
| Machine power: | 4KW |
| Temperature: | -10~40℃ |
| Humidity: | 40~90% |
| Power supply: | 3phase 380V±10% 50/60 Hz |
| Total weight: | about 1,180 Kg |
| Dimension: | 2000(length)×1300(width)×1800(height) mm3 |
| Production efficiency: | 800-900set/class(calculated based on 12slots 24hooks, 20turns) |
c. Fully auto motor armature commutator spot welding machine parameters
Product name

Armture commutator hotstaking machine

Loading method: (choose any one from the following three methods)

1.Manually loading/unloading

2.Manually push guide rail to load/unload

3.Cylinder loading/unloading

Indexing method:

servo indexing

Commutator type:

hook or riser

Wire diameter:

φ0.2mm-φ1.0mm

Armature diameter:

φ20mm-φ60mm

Armature Stack length:

10mm-60mm

Shaft length:

50mm-250mm

Commutator diameter:

φ10mm-φ40mm

Shaft diameter:

φ3mm-φ17mm

Commutator hook/riser number:

≥3

Zero finding method:

manually place armature, cylinder drive one block for positioning

Pressure control method:

spring + cylinder + pressure detection

Welding head cooling method:

water cooling

Parameter setting:

set on the touch screen and power source , Parameter also can be set

Power source control method:

close loop feedback, high accuracy , inversion

Compressed air pressure:

4kg/cm2-6kg/cm2

Welding source power:

three phase AC380V±10% 50HZ 40KW

Water cooler power:

three phase AC380V±10% 50HZ

Machine weight:

800kg(for reference)

Dimension:

785(L)x 910(W)x 2100(H)mm 3 (for reference)
d. armature rotor commutator turning machine parameters
Name

Parameter

Remark

1

Armature OD

Ф20~Ф60 mm

Can process up to Ф82 mm(Minor changes are needed)

2

Armature stack length

10~100 mm

3

Shaft length

50~250 mm

4

Length of shaft at commutator end

6~80 mm

5

Shaft diameter at commutator end

Ф3~Ф12 mm

6

Commutator diameter

Ф12~Ф42 mm

8

Commutator roundness

≤0.003mm

The commutation material is Ag Cu,

Surface hardness of shaft≥HRC45

Shaft Roundness at the bearing position≤1.5u

Armature balance control

9

Commutator bar-bar roundness

≤0.002mm

10

surface roughness

Ra 0.4 ~ Ra 1.0

as requirement

11

Maximum cutting amount

Max 0.12mm for the first cutting

Direction at commutator diameter

12

Armature speed regulation range

Max 3000rpm

Touch screen setting

13

Z direction Feeding speed

Stepless adjustable

Touch screen setting

14

Z direction cutting return speed

non-adjustable

Internal programming

15

Z direction cutting length

4 different turning lengths can be set

Touch screen setting:Max 30mm

16

Z direction stroke

Max 40mm

17

X direction cutter feeding speed

Stepless adjustable

Touch screen setting

18

X direction cutting return speed

non-ajustable

Internal programming

19

X direction feeding accuracy

Min 0.002mm

Touch screen setting

20

Cutter compensation volume

Min 0.002mm

Manual touch screen setting

21

Rotor rotation during turning

positive

Observe the rotor rotation along the axis of commutator:CW

22

Air pressure

Pressure 4~6kg/cm2

23

V-block material

Artificial PCD diamonds

24

Turning tool material

Artificial PCD diamonds

25

Turning tool type

Wide blade

12 degrees right/ left deviation

26

Machine power

6KW

Industrial vacuum cleaner power:2.2KW

Deburring machine power:0.2KW

27

Power

AC380V 50/60Hz

Industrial vacuum cleaner:AC380V 50/60Hz

Deburring machine:AC220 50/60Hz

28

Machine weight

About 1100Kg

Does not include vacuum cleaner and deburring machine weight

29

Workpiece operation height

950mm±50

The rotor center is high from the ground center

30

Production efficiency

2200-2500pcs/shift

10-12 sec/pc

31

Dimension

1100mm(length) x 900mm(width)x 1600mm(height)3
IV.The main equipment picture display
The double flyer armature rotor coil winding machine
2. The armature commutator turing machine
3. The armature rotor testing machine
The motor armature rotor manufacturing production assmebly line youtube video
V.The main equipment parameters
We can customize the motor manufacturing machine according to customer needs, please contact us if you need it.

| Contact us
Motor Parts Department
Manager: Annie
Phone/Whatsapp/Wechat : 0086-13738869026
Email : emarketing@nide-group.com
Address:14-5, East Kemao Center, No.100 Xiangyun Road, Hi-tech District, Ningbo 315040, China