PRODUCTS
CONTACT US
Ningbo Haishu Nide International Co., Ltd.
一一
· Add:14-5, East Kemao Center, No.100 Xiangyun Road, Hi-tech District, Ningbo, China.
· Contact person:Annie
· Tel:0086-574-87295639
· Mob/Whatspp/WeChat:0086-13738869026
· Fax:0086-574-87295637
· Email:emarketing@nide-group.com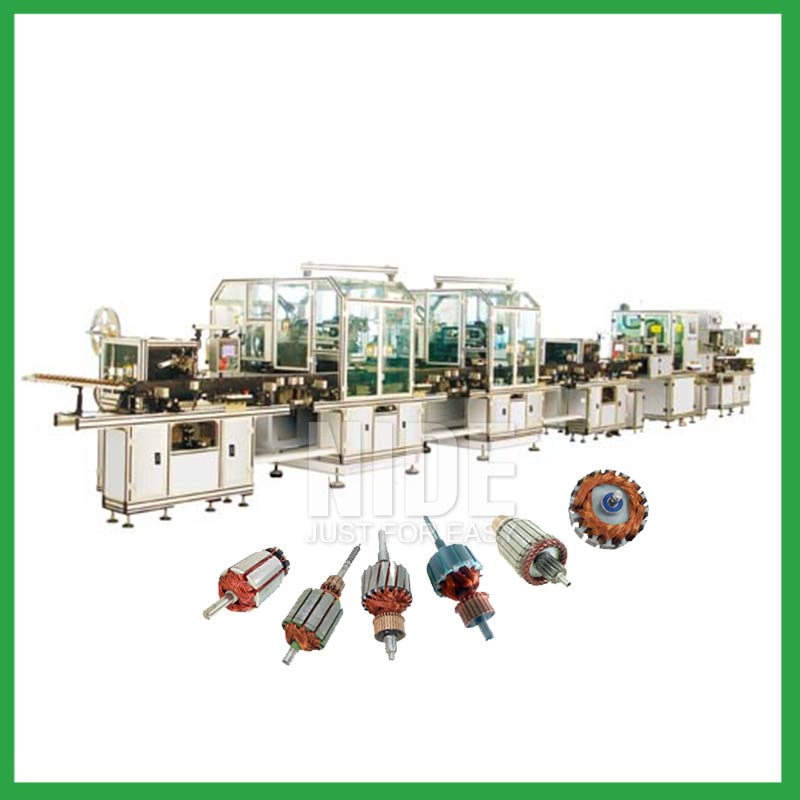 Automatic armature manufacturing machine
CONTACT US
Details
Introduction:This machine is used for armature mass manufacturing.
Specification
This armature manufacturing machine is including several machines, like insulation paper insertor, armature winding machine, commutator fusing machine, wedge insertion machine, and rotor testing machine. The rotor will be carried by mechanical arm and converyor to the next machine.
Insluation paper insertor
This machine is used to inserting paper into rotor slot. The insulation material can be as per customer's requirement, DMD, DM, polyester film are all can be used in this machine.
Armature winding machine
After doing paper inserting machine, mechanical arm and converyor will carry the rotor the rotor winding machine position. The machine is equipped with touch screen and PLC, winding parameter could be set and modified on the screen.
Commutator fusing machine
It can weld both riser and hook type commutators. This machine is applied to DC motor and universal motor. It is controlled by PCL, all the data setting can be done on the touch sreeen. There are four power control method, namely secondary constant current, secondary constant voltage secondary constant frequency.
Wedge insertion machine
The wedge material can be as per customer's requirement, DMD, DM, polyester film are all can be used in this machine.
Rotor testing machine
It is suitable for testing less than 72 segments armature. The Voltage withstand test time could be set as per different requirements. Testing items could be screened.Testing data saved automatically, and could be traced and printed at any time
Applications:
It is suitable for power tooling motor armature production, especially with a great production valume.
Information needed for rotor production line inquiry
It will be better if customer could send us detailed drawing including below information.
1. Rotor lamination drawing
2. Rotor assemble drawing
3. Rotor stack drawing
4. Rotor winding diagram drawing: with rotor wire diameter and turn number
5. Commutator drawing
6. Shaft drawing
7. Required residual unbalancing volume and initial unbalancing volume
8. Wedge and insulation paper material
9. Required productivity
10. Other technical requirement
If possible, it will be better if customer can send us samples.

| Contact us
Motor Parts Department
Manager: Annie
Phone/Whatsapp/Wechat : 0086-13738869026
Email : emarketing@nide-group.com
Address:14-5, East Kemao Center, No.100 Xiangyun Road, Hi-tech District, Ningbo 315040, China